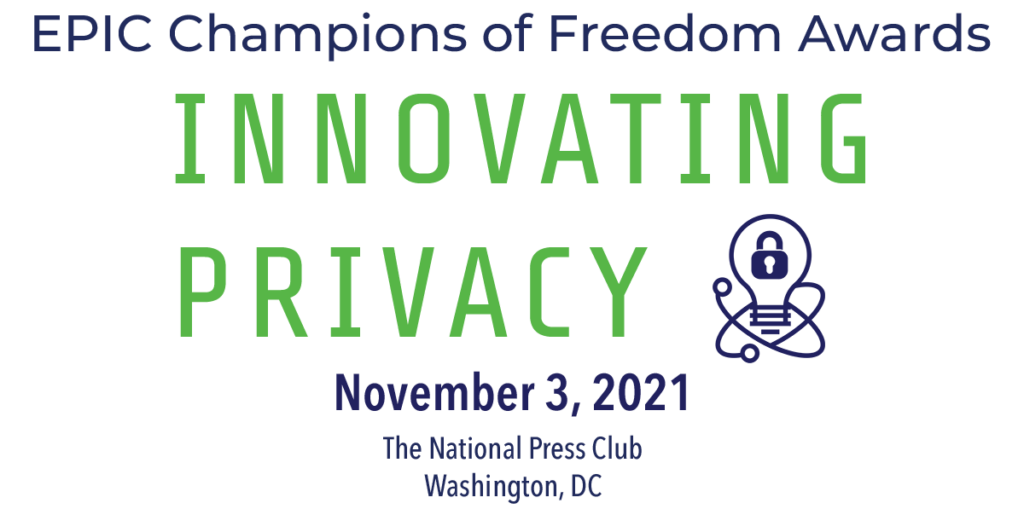 PRIVACY ROCKSTARS
Craig Newmark
Anonymous
PRIVACY CHAMPIONS
Chris Wolf
PRIVACY ADVOCATES
Anita Allen
Len Kennedy
Deborah Peel
Cooley LLP
Sidley Austin LLP

PRIVACY SUPPORTERS
Harry Lewis
Shoshana Zuboff
PRIVACY FRIENDS
Christine Borgman
Center for Digital Democracy
Danielle Citron
Jeff Jonas
Paul Smith
Katherine Strandburg
Sherry Turkle
Jim Waldo
About the 2021 EPIC Champions of Freedom Awards
The 2021 EPIC Champions of Freedom Awards ceremony will be held on Wednesday, November 3rd, from 6:30pm – 9:30 pm at the National Press Club in Washington, D.C., and will also be live-streamed.
EPIC established the Champions of Freedom Awards to recognize individuals who have helped safeguard the right to privacy, open government, and democratic values with courage and integrity. The theme of this year's ceremony is "Innovating Privacy," and the event will feature speakers and awardees who spark change by finding new ways to draw public attention to emerging privacy issues and explore new solutions.
This year, EPIC will honor: Joy Buolamwini of the Algorithmic Justice League, Joseph Cox from MotherBoard, The Markup, and Shoshana Zuboff. The evening will be hosted by Kyla Guru, founder and CEO of Bits N' Bytes Cybersecurity Education.
We are at a critical point for privacy in the United States and EPIC plays a crucial role in the ongoing debate. We invite you to join us on November 3rd to learn more about our work and honor a few incredible Champions of Freedom. If you are unable to attend but would like to support EPIC's work, donations are welcomed here. EPIC does not take funding from corporations or government agencies, so your support is crucial to our success.
We are committed to hosting the safest event possible. Please note that visitors of the National Press Club will be required to show proof of vaccination or a negative COVID test at the Club entrance, and guests must wear masks when not actively consuming food or drink. More information is available at: https://www.press.org/safetyfirst.
If you have any questions about the event, please reach out to [email protected].