PAST EVENT
EPIC 2023 Champions of Freedom Awards
20 Sep. 7:00 PM EDT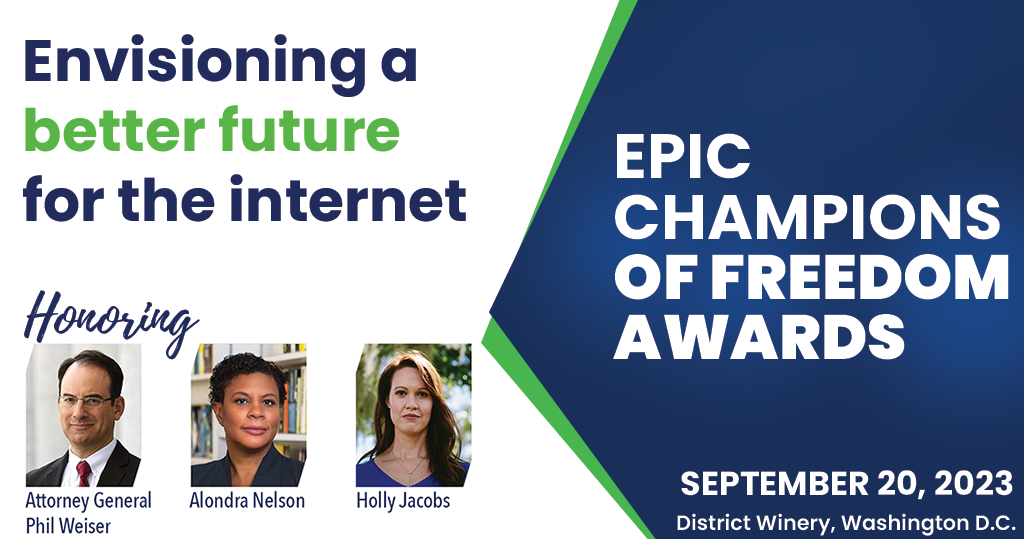 About the 2023 EPIC Champions of Freedom Awards
The 2023 EPIC Champions of Freedom Awards ceremony and dinner will be held on Wednesday, September 20, from 7 PM – 10 PM at District Winery in Washington, D.C.
EPIC established the Champions of Freedom Awards to recognize individuals who have helped safeguard the right to privacy, open government, and democratic values with courage and integrity.
The theme of this year's ceremony is "Envisioning a Better Future for the Internet." We know a better future is possible, and EPIC is committed to doing the work to get us there.
EPIC will be celebrating public officials and leading experts who are working tirelessly towards a better future by strengthening privacy and civil rights protections in the digital age. This year we are honoring three amazing awardees:
Colorado Attorney General Phil Weiser
Alondra Nelson
Holly Jacobs, founder, Cyber Civil Rights Initiative
We are living in a time of significant technology and policy changes that will reshape our digital ecosystem and fundamental rights. As lawmakers around the world grapple with the impact of new AI systems that threaten to exacerbate data-driven harms and fuel mass data collection, EPIC is working to ensure that policymakers set new standards that protect privacy and civil rights online. EPIC's work on these important issues has never felt more urgent.
Dinner and refreshments will be served. Dress is business/cocktail attire.

This event is designed as a widely attended event under Congressional ethics rules. Expected attendance is approximately 200-225 people, including from advocates, government officials, Hill and agency staff, and academics. The fair market value of each ticket is $150.
If you have any questions about the event, please reach out to [email protected].