Danielle Citron
Jefferson Scholars Foundation Schenck Distinguished Professor in Law, Caddell and Chapman Professor of Law at University of Virginia School of Law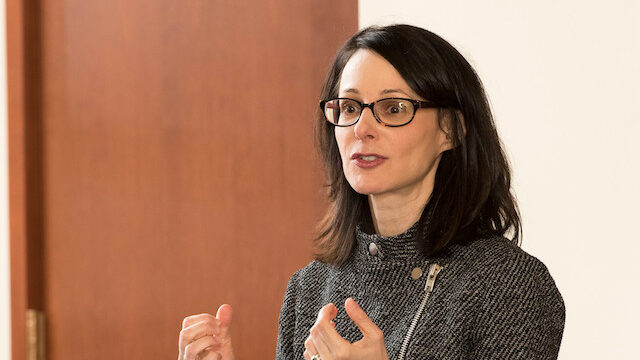 Danielle Citron is the Jefferson Scholars Foundation Schenck Distinguished Professor in Law, Caddell and Chapman Professor of Law at UVA, where she writes and teaches about privacy, free expression and civil rights. Her scholarship and advocacy have been recognized nationally and internationally. In 2019, Citron was named a MacArthur Fellow based on her work on cyberstalking and intimate privacy. In 2018, she received the UMD Champion of Excellence award and in 2015, the United Kingdom's Prospect Magazine named her one of the Top 50 World Thinkers and The Daily Record named her one of the Top 50 Most Influential Marylanders. She serves as the inaugural director of the school's LawTech Center, which focuses on pressing questions in law and technology.
Her book "Hate Crimes in Cyberspace" (Harvard University Press, 2014) was widely praised in published reviews, discussed in blog posts and named one of the 20 Best Moments for Women in 2014 by the editors of Cosmopolitan magazine. She has published more than 50 articles and essays, including in the Yale Law Journal, Michigan Law Review (three times), California Law Review (twice), Boston University Law Review (five times), Washington University Law Review (three times), Emory Law Journal (twice), Southern California Law Review, Texas Law Review, and many more, which have won professional awards from the International Association of Privacy Professionals and privacy think tank Future of Privacy, and been cited by state and federal courts. She has written more than 45 opinion pieces for major media outlets, including the New York Times, the Washington Post, the Atlantic, the Guardian, Time and Slate.
For the past decade, Citron has worked with lawmakers, law enforcement and tech companies to combat online abuse. In June 2019, she testified before Congress about the national security and privacy risks of deepfakes and have been working with Hill staff on a bill to criminalize digital impersonation. She has been involved in reform efforts around the regulation of online platforms. In October 2019, she testified before Congress about Section 230 of the Communications Decency Act. From 2014 to 2016, Citron served as an advisor to then-California Attorney General Kamala Harris and as a member of Harris' Task Force to Combat Cyber Exploitation and Violence Against Women. In 2011, Citron testified about misogynistic cyber hate speech before the Inter-Parliamentary Committee on Anti-Semitism at the House of Commons in the United Kingdom.
Before joining UVA Law, Citron taught at Boston University School of Law and the University of Maryland School of Law. She has been a visiting professor at Fordham Law School and George Washington Law School. In 2016, she was a Dean's Distinguished Visitor at Washington University School of Law and an interdisciplinary studies fellow at the University of Massachusetts at Amherst.