EPIC Will Expand Work on Privacy and Tech Oversight in 2023
January 30, 2023 | Alan Butler, EPIC Executive Director, and Alinnah Qiao, EPIC Executive Assistant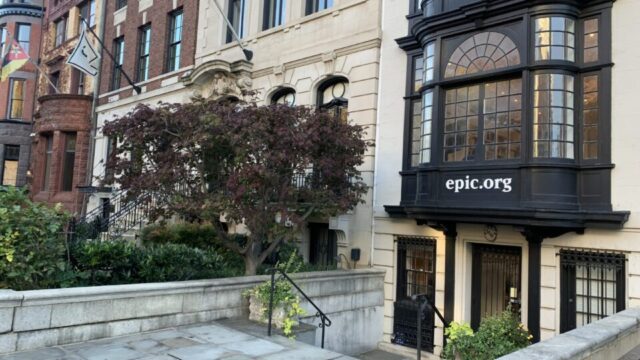 For nearly thirty years, EPIC has been fighting to secure the fundamental right to privacy for all, and the fight has never been more important. 2022 was a momentous year that brought new threats—in particular, the Supreme Court's decision in Dobbs, which undid 50 years of precedent protecting the constitutional right to privacy—but also hope for the future. In 2023, EPIC will work to establish strong, comprehensive privacy and digital civil rights across the United States; we will help to develop new fairness and accountability mechanisms to ensure that AI and automated decision-making systems do not exacerbate inequities and discrimination; and we will work to ensure that intelligence and law enforcement surveillance programs are subject to robust oversight.
EPIC's important work is made possible by the individuals and charitable foundations that support our research and advocacy. Last month, EPIC was thrilled to be selected as a charity beneficiary for the 2022 Proton Lifetime Account Fundraiser. Since 2018, Proton Mail—a secure and end-to-end encrypted email service—has hosted an annual, community-driven fundraiser to support organizations that align with its vision and values. The record-breaking funds raised by the Proton community this year will help make possible the critical work that is being taken on by EPIC and other civil society groups.
EPIC is grateful for this support from the Proton community and plans to leverage this gift to improve consumer privacy, AI accountability, surveillance oversight, and other critical issues. Below is a brief summary of the progress we made last year and an overview of where we hope to take the work in 2023:
Consumer Privacy Advocacy
In 2022, we saw significant progress on privacy legislation. Congress introduced the American Data Privacy and Protection Act (ADPPA), a bipartisan, bicameral bill that EPIC believes is the most promising federal privacy legislation that we have seen in the United States in many years. We testified on the importance of the bill and worked closely with both coalition partners and Congressional staff to strengthen it. Unfortunately, ADPPA did not pass last year, but it is well-positioned to gain further bipartisan support in 2023. We have never been this close to getting comprehensive privacy protections for all Americans.
In addition to advancing federal privacy legislation, EPIC has co-led coalition efforts to support comprehensive privacy rulemakings in California, in Colorado, and at the Federal Trade Commission (FTC). We have presented testimony, submitted detailed comments and feedback to regulators, and worked to build consensus among varied civil society organizations. Notably, in November 2022, EPIC published Disrupting Data Abuse: Protecting Consumers from Commercial Surveillance in the Online Ecosystem in response to the FTC's call for comments in its proposed rulemaking on commercial surveillance and data security. The 230-page report puts forward numerous recommendations for how the Commission can better protect consumers in the digital era and is the most comprehensive proposal EPIC has made on a consumer privacy framework.
We are already carrying this work forward into 2023. There are new opportunities to advance privacy both at the federal and state levels, and on both the legislative and regulatory fronts. Threats to individual privacy from corporate and government surveillance intensify each day, especially in the post-Dobbs world, and EPIC will be working to curb the myriad of data abuses that harm consumer privacy and threaten democracy.
Artificial Intelligence and Human Rights
Artificial intelligence systems are now being deployed in opaque and unaccountable ways that can harm individuals and exacerbate biases, although their use is largely unregulated in the United States. EPIC's AI and Human Rights Project advocates for transparent, equitable, and commonsense AI policy and regulations.
As part of our AI and Human Rights work, we launched our Screening & Scoring Project, which aims to investigate instances of screening and scoring in everyday life to better protect the public from algorithmic harm. Through this project, we released Screened and Scored in D.C. in November 2022, a report that report provides a comprehensive view of the various automated decision-making systems used in the District of Columbia. In addition to examining 29 automated decision-making systems used by 20 different agencies, the report presents policy recommendations for lawmakers and resources for affected D.C. residents.
This report has already sparked significant interest and lays the groundwork for us to further our work in 2023. EPIC plans to conduct more research and produce more publications on the need for AI oversight. We will urge agencies to investigate the automated decision-making systems being used in education, hiring, housing, credit scoring, and other sectors. We will testify on the need for strong AI transparency bills before legislatures across the nation. We will support the development of new rules and executive actions to implement the White House's Blueprint for an AI Bill of Rights. Overall, we will persist in our fight to shed greater light on the opaque AI systems pervading our lives today, and to hold their makers accountable.
Surveillance Oversight
A major victory for EPIC's Project on Surveillance Oversight in 2022 was our campaign opposing the IRS's plans to mandate facial recognition verification. Early last year, the IRS faced significant backlash after announcing plans to require taxpayers to submit to facial recognition identification to access their tax records online. This proposal was dangerous not only because it would have created new barriers to access for critical government records, but also because the proposed facial recognition system was operated by a third-party contractor, ID.me, without necessary privacy protections. EPIC acted immediately and played a leading role in bringing together organizations to oppose the IRS's proposal, highlighting the potential bias, privacy, and civil liberties risks.
Following the opposition campaigns led by EPIC and other groups, the IRS announced that it would no longer be going through with this plan. Since then, we have continued to call for other federal and state entities to end their use of ID.me and face verification more generally, and we will build on this movement in 2023. In the past, EPIC has also successfully rolled back facial recognition systems secretly implemented by law enforcement. In 2021, EPIC led a coalition that shut down the previously undisclosed NCR-FRILS facial recognition system used in the Washington, D.C. area to identify a Black Lives Matter protester in 2020.
EPIC's Project on Surveillance Oversight targets facial recognition as a particularly harmful technology that is capable of destroying privacy in public. The proliferation of facial recognition systems alongside surveillance cameras and drones threatens to make constant surveillance of the public cheap and easy. Facial recognition also creates demonstrable harms from over-policing, wrongful arrests, and misidentifications, and it allows for the gatekeeping of public spaces. The last harm became clear late last year as the owner of Madison Square Garden used a facial recognition system to ban any lawyer working for a firm engaged in litigation against him from seeing plays, sports, or concerts at the venue. Facial recognition is a fundamentally harmful technology that EPIC works to limit, roll back, and ban when possible.
With Congress set to reauthorize Section 702 of the Foreign Intelligence Surveillance Act this year, surveillance reform—on issues ranging from facial recognition to drones—will be another major priority for EPIC. Building off our comments to the Privacy and Civil Liberties Oversight Board in November 2022, EPIC is actively working with a bipartisan coalition of privacy and civil liberties groups seeking major reforms to Section 702. We will engage with members of Congress, the media, and the public on the need for more robust safeguards on the collection and use of personal information under Section 702; greater accountability and meaningful avenues for redress; and greater transparency and oversight of the government's use of Section 702 in new contexts like cybersecurity.
Looking Forward
In addition to the key program areas outlined above, we have made great progress on various other projects and plan to further broaden our work. In 2023, EPIC will advocate for enhanced privacy protections in the establishment of a new transatlantic data transfer framework, fight for reproductive privacy protections, support state attorneys general in reducing the deluge of robocalls in the U.S., and much, much more.
As an independent organization that does not accept support from corporations or government entities, EPIC depends on passionate donors like those from the Proton community. We would like to once again thank all those who participated in the 2022 Proton Lifetime Account Fundraiser for their generous donations.
We all share a fundamental right to privacy. EPIC will seize on the momentum from 2022 to further advance our mission, in hopes that we will cite 2023 as the year that the tide turned in favor of privacy in the United States.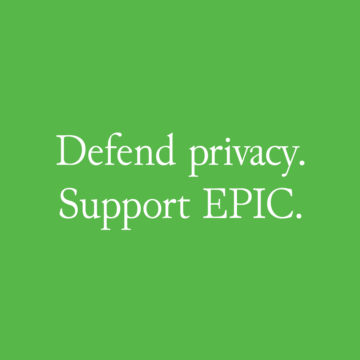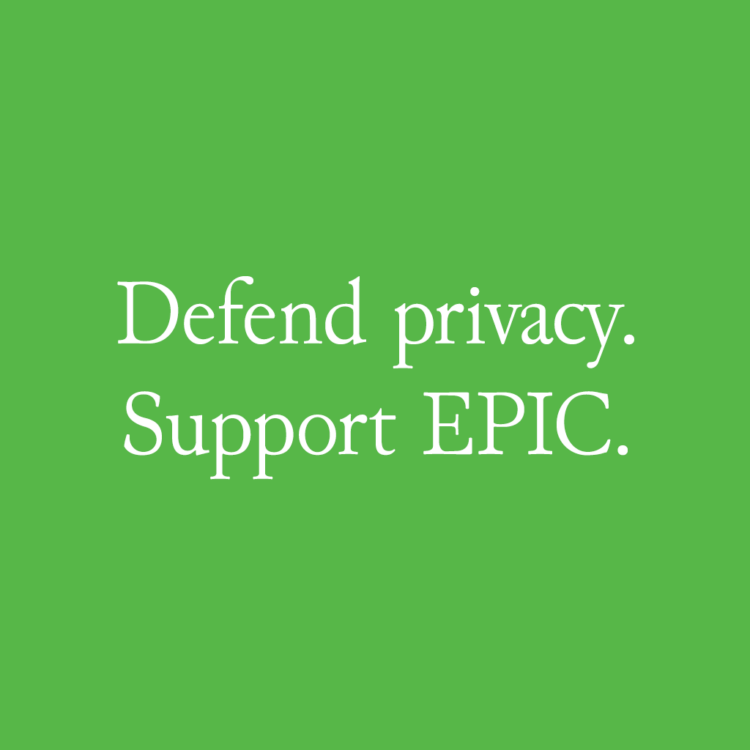 Support Our Work
EPIC's work is funded by the support of individuals like you, who allow us to continue to protect privacy, open government, and democratic values in the information age.
Donate